Pancreatic Cancer Research Fund has three main objectives:
To raise funds for research into early detection, new treatments and ultimately a cure for pancreatic cancer
To encourage more of the research community to get involved in pancreatic cancer research
To promote the need for more research funding by the major cancer research funding organisations
To date, Pancreatic Cancer Research Fund has supported research projects with grants totalling over £14 million – all through fundraising and donations.
Pancreatic Cancer Research Fund was founded in April 2004 by Maggie Blanks, following the death of her husband Alan from the disease in May 2003. Having discovered that survival rates for pancreatic cancer had barely improved in forty years and that little research was being undertaken, she was determined to encourage more research that was targeted specifically at the disease. She felt the best way to do this was through a charity which would not only raise new funds for research but also be a voice for pancreatic cancer sufferers and argue for a fair allocation of research funding and attention.
Experience with other cancers has shown that increasing awareness of the disease and raising more funding for research can have a huge impact on overcoming the disease. That is our goal for pancreatic cancer.
About our logo
The leaf of our logo is a golden ash. Maggie Blanks, the charity's founder, had planted a golden ash in memory of her husband Alan, after his death from pancreatic cancer.
When it came to setting up the charity, a friend suggested using the leaf of the memorial tree as the logo. Research also showed that in the past, the ash tree had links with health. Before the coming of Christianity, the people of Scandinavia worshipped the ash as a sacred tree, and symbol of the life-force. The ash was also thought to have medicinal as well as mystical properties. It was believed that if a sick child was passed through the cleft of an ash tree, it would be cured.
This seemed a good omen – and another reason to have the golden ash leaf as the charity's logo.
Our Patron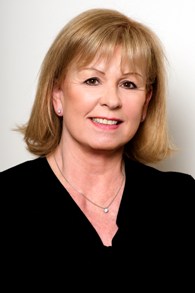 We are extremely proud to have as our Patron, one of the UK's leading business women, the world-renowned hair colourist, Jo Hansford MBE.
Jo has a personal connection to the charity, as her husband, David, died of pancreatic cancer in 2001 – the same disease that killed her mother more than three decades earlier.
Jo's phenomenal business success is marked by many firsts: she was the first female hairdresser to win the Financial Mail's Enterprise 2000 Award; the first woman to win Looks Magazine Celebrity Hairdresser of the Year Award; the first woman to launch her own range of hair care products; and in 1993, she became the first woman to open a specialist colour salon. Working with her daughter Joanna, Jo was runner up in the Everywoman Business Awards in 2005 and her Mayfair salon was runner up in the Global Salon Business Awards in 2006.
Held in the highest regard by her industry peers, Jo's clients include the HRH Duchess of Cornwall, Elizabeth Hurley, Yasmin Le Bon and Nigella Lawson.
In June 2010 Jo was awarded an MBE in Queen's Birthday Honours list.
The self-belief and determination that Jo has shown in creating and growing her highly successful business are superb assets to the charity, and her support of our work is greatly appreciated.
Our newsletter
Our annual newsletter is one of the ways we keep our supporters informed about the world-class research their donations are funding. We can also say thank you to everyone who has made the research possible and share some of their fundraising stories.
PCRF Newsletter Autumn 2023 Final Issue