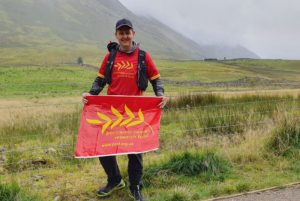 Congratulations to Simon Pollard from Humberston, near Cleethorpes, who smashed the National 3 Peaks 24hr Challenge, finishing with an incredible time of 21 hours 56 minutes and 9 seconds!
Simon's challenge started on 12th September and continued overnight into the 13th September. He trekked, ran and scrambled over loose shale to the top of the highest mountains in Scotland, England and Wales – a total climb of over 3400 metres – and with no sleep. To date, Simon has raised a fabulous £730 for PCRF in memory of his dad Ian, who died in 2010.
He reported back, saying: "Overall Ben Nevis went really well, quite warm in the Glen up to about two thirds of the way up and no rain, despite it being persistently dreary right up to the start. Scafell Pike was really hard going overnight with treacherous conditions as water was running down the path like a stream.  Snowdon was the best weather I've had all year so the views were breath-taking.
"Although the official challenge is to complete in under 24 hours, my number one goal was to complete it in under 22 hours if I could so I'm delighted, although I am left wondering just how much faster I could do it, not least since I completed Scafell Pike over 50 minutes quicker twice in training, albeit in daylight and without having done Ben Nevis 5 hours beforehand!"
Maggie Blanks, PCRF's CEO said: "What a magnificent effort! We're so pleased that Simon beat the time he set himself and that the weather was kind. We're also very relieved that he completed the part of his challenge that was in darkness without injury.
"We have no doubt that Simon could complete this challenge even faster because we know just how motivated and determined he is, but please at least rest up and recover first, Simon!"