In January 2020, Nichole's fundraising topped £6,000 thanks to an event she held to mark what would have been Gareth's 40th birthday, with Gareth's sister Steph helping to organise everything and suggesting a 1980s theme, as this was the year he was born.
"It was a brilliant evening with so many friends and family, full of fun, dancing and laughter. Gareth would have loved it," Nichole said. "Everyone took the 1980s theme to heart with some amazing and hilarious costumes, we had a 1980s disco, a live band, tattoo transfers and face paints for the kids, plus we set up Gareth's old Nintendo with all the games he played as a child, like Super Mario and Street Fighter."
The evening included an enormous raffle, with prizes donated by local businesses plus friends and family, and the biggest two prizes were auctioned off at the end of the evening. Nichole took on the role of auctioneer herself – something that Gareth would have been impressed by as he'd been learning to be an auctioneer himself at Wilsons Auctions in Telford.
The star prize, a weekend break for two, was won by Gareth's cousin, Kevin, and his wife Gemma, who immediately gifted it to Nichole and her young son Hayden.
"It's still really raw for us all, and there were a few tears because he wasn't there and we all miss him so much, but I was overwhelmed with knowing just how loved he was, and this helps," said Nichole.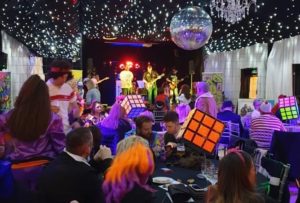 "It also helps to know that the money we're raising is going to a charity that can really do some good with it, working hard to find new and better ways to diagnose and treat this awful disease."