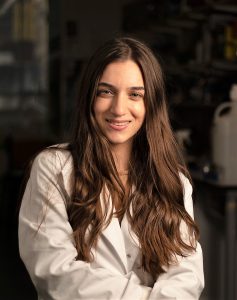 Pantelitsa (Litsa) is one such talented student who works alongside Professor John Marshall at Barts Cancer Institute, Queen Mary University of London. We offered Litsa the chance to attend one of the biggest pancreatic cancer conferences, held online in 2021 by the American Association for Cancer Research. Here's Litsa's report.  
My name is Pantelitsa Protopapa, and I'm a final year PhD student at Barts Cancer Institute in London. Funded by PCRF, I am studying the role of a group of proteins called integrins in pancreatic cancer. Recently, PCRF gave me the great opportunity to (virtually) attend the American Association for Cancer Research (AACR) 2021 Pancreatic Cancer conference, one of the biggest conferences in pancreatic cancer of the year. It encompassed two fantastic days of talks by clinicians and scientists on the latest advances in the field. As an early-stage scientist, such conferences are valuable because they allow scientists to get out of their lab and group and see what other fellow scientists have been working on. Even if this might not be in one's exact field, it is still a great source of knowledge and often a place where exciting new ideas can be born.
So, what's new in the field of pancreatic cancer research?
The conference offered talks on various fields such as immunotherapy, metabolism and tumour microenvironment that combined published and early-stage data. Although they were all great, I found a few particularly interesting.
Immunotherapy
One of the hottest topics in cancer therapeutics is immunotherapy, using the patient's own immune system to fight cancer. Although this relatively new type of cancer therapy has been successful in cancers like lymphomas, unfortunately, it has not yet shown any clinical benefit in pancreatic cancer, which is frustrating1.
To understand why, Professor David DeNardo and his team at Washington University, USA, ran a series of experiments. They found that a type of immune cell, called dendritic cells (DCs), play an important role in the immune cell landscape in pancreatic cancer. DCs are crucial in 'activating' another immune cell type, called CD8+ T cells, which turns them into cancer-fighting cells. For immunotherapies to work, there need to be enough T cells that are 'activated'. But when examining biopsies donated by patients, the team found that compared with healthy people, pancreatic cancer patients produce fewer DC cells. These don't always work properly, which could be why immunotherapy doesn't work well with pancreatic cancer patients. As well as making fewer DCs, the team found that pancreatic cancer patients have high levels of a molecule called IL-6, which can also impair or kill DCs.
To see if they could combat these issues with Dendritic cells, the team treated mice with two drugs that can increase the production and activation of DCs. When they combined this treatment with radiotherapy, the growth of the tumour slowed down. An exciting clinical trial to test this combination therapy is currently underway in patients. It will help us understand if restoring DCs could make Immune-based treatments effective for pancreatic cancer patients(2).
Personalised treatments
Other interesting presentations included a talk by Dr Andrew Aguirre from the Dana-Farber Cancer Institute in the US, who explained how new technologies such as single-cell RNA sequencing could help us better understand the genetic profile and subtype of a patient's tumour. This could potentially enable better treatment decisions. In addition, Dr Luis A. Rojas Garvan from the Memorial Sloan Kettering Cancer Centre presented a mathematical 'quality model' that his group is developing to predict how a group of proteins called neoantigens 'trigger' the immune system to attack cancer cells. Neoantigens are products of tumour DNA mutations and are found in cancer cells. Depending on how close they are to the 'original' protein from which they mutated, they elicit immune responses against them – meaning the more they are mutated, the more likely it is that our immune system will recognise them as foreign and attack them. This model will help us understand neoantigens better and, in turn, understand the immune evolution of pancreatic cancer over time, with further implications for better therapy choices. Additionally, several interesting talks highlighted new findings in understanding the mechanisms of pancreatic cancer metabolism at the molecular and cellular level and how the pancreatic cancer microenvironment can help the tumour grow. Understanding the mechanism at the cellular level is of critical importance because this is how new therapeutics are developed.
Overall, this year's AACR Pancreatic Cancer Conference had a great list of speakers, exciting talks and beautiful posters. I believe it is a conference that all scientists from our field would benefit from attending. I'm grateful to PCRF for giving me the chance to attend my first AACR conference, and I've come away with fresh motivation and determination to make a difference in beating this disease.
References
Carpenter E, Nelson S, Bednar F, et al. Immunotherapy for pancreatic ductal adenocarcinoma. J Surg Oncol. 2021;123(3):751-759. doi:10.1002/JSO.26312
Meyer MA, Baer JM, Knolhoff BL, et al. Breast and pancreatic cancer interrupt IRF8-dependent dendritic cell development to overcome immune surveillance. Nat Commun 2018 91. 2018;9(1):1-19. doi:10.1038/s41467-018-03600-6