"I've been friends with this lady since our children were little and started school together. She's always been fit and healthy, so her diagnosis of pancreatic cancer came out of the blue and hit us all like a ton of bricks," says Alison. "I felt really helpless and wanted to do something positive, so I decided to think up a fundraiser I could do that would catch people's attention.
"I'd read about a race where people run several miles every hour and just keep doing it for days until there's one winner left standing. That was the inspiration, really. I thought that if I did 1.1 mile every hour for 24 hours, that would take me up to a marathon distance and that was do-able.  It wasn't until after I'd told everyone and publicised it that I thought 'What on earth was I thinking?!' Not so much on the running front – I'm in a running club and regularly do parkruns, so knew I could run that distance – but more on the sleep deprivation side!"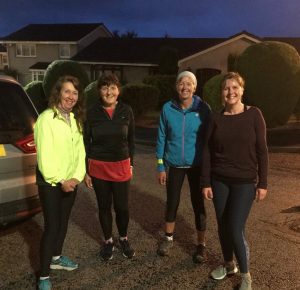 With several different routes planned for daylight hours and night time, Alison decided to start at 7pm on Saturday 28 August, so that she  would be fresher for the runs through the early hours of the morning when it would be dark and cold and when she might be running on her own. "I normally go to bed pretty early, so by the third leg it would already be past my usual bed time!" she says.
As it turned out, Alison didn't do a single run on her own. Her son, Omar (21), came home from university in Edinburgh to run all 24 alongside her and they were also joined on each individual run by numerous friends and colleagues – with 16 people running the final leg with them!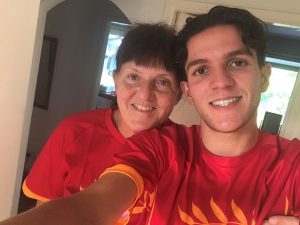 Each mile took Alison and Omar around 10-12 minutes and they kept that pace throughout the challenge. "The toughest thing was the lack of sleep," she says. "we'd had conflicting advice whether or not to try and sleep in between runs, so in the end we decided to listen to our bodies. While we ran 1.1 mile every hour, we did space two of the runs out to give us an hour and a half gap and managed a 20-minute nap. Other than that, I spent the time in between runs updating social media about our progress, replying to supportive messages and chatting to runners who arrived to join us for the next leg. It was quite hectic at times!"
Alison says that finishing the last leg was a mixture of emotions, but mostly elation, exhaustion and relief.  "Friends had mocked up a finishing line outside my house and there were lots of people cheering us home, including my friend and her husband who presented me with a huge bunch of roses, one for every mile we'd run, which was a lovely touch.  We finally had something to eat properly and went to bed around 8pm. I thought I would sleep for days but I woke up the next morning at the normal time feeling fine – although by lunchtime I was really flagging!
"I'm so happy at the amount we've raised! Originally thought it would be about £500, but to raise over ten times that is just fantastic."