Purity Brewing Company held their annual company cricket match in the summer and used the occasion to present PCRF CEO Maggie Blanks with a cheque for £6,000.
Purity has been fundraising for PCRF following the death of much-loved company co-founder, Jim Minkin, from pancreatic cancer. Launching a new Best Bitter in 2020, named "Jimbo" as an affectional tribute to their friend, Purity donates 5p from every pint and can of the award-winning brew to PCRF.
"We've been running our cricket match for over 15 years," says Alex Cosgrove, Purity's Customer Marketing Manager. "It started as a yearly summer party organised by co-founders Jim and Paul to thank the team, suppliers and customers and has grown into a much bigger social event with up to 80 people joining together for a barbecue, drinks and to celebrate the success of the business as it has grown from two guys and a dog to a team of over 50 today."
Hosted at Exhall & Wixford CC near Stratford-upon-Avon, the teams retain the same names each year – The Sloggers and The Sweepers – made up from a mixture of Purity staff and friends of the business: This year the Sweepers triumphed, winning with a score of 80 runs compared to the Sloggers' 40; however the scoring is a rather bespoke affair.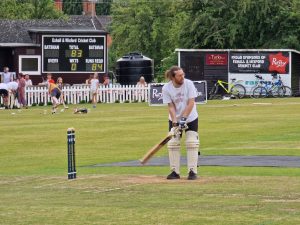 "It can be a bit confusing to newer staff," says Alex. "Every player bowls and bats 2 overs  (12 balls) and each team starts on 100 runs then loses ten for every wicket lost. It's great fun and it was always the highlight of Jim's year, so it's a great way to pay tribute to him."
This year the trophy the teams competed for was renamed the Jim Minkin Memorial Shield and each year will be engraved with the winning team.
Purity's Co-Founder Paul Halsey and new CEO Andy Maddock also confirmed that Purity will continue to raise vital funds for PCRF through the sales of Jimbo, The Very Best Bitter.
Maggie Blanks said: "I can't profess to understand the rules of cricket but it was lovely to meet Jim's wife Angela and spend time with his friends and colleagues – and see the regard and love that they have for Jim. We're so very grateful for Purity's continued support in his name."