Nine boys aged between 7-12 years from Diggle FC Juniors in Oldham raised over £3,000 for PCRF by completing a 16-mile walk from Saddleworth to the John Smith's Stadium in Huddersfield. The fundraiser was in tribute to Martin Brook, the partner of  team coach Tom Matley's mum.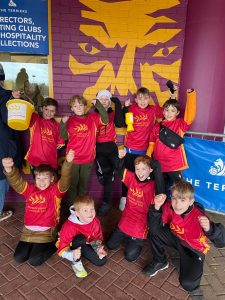 Wearing their PCRF T-shirts, the boys and six adults set off just after 6am shored up on bacon and sausage sandwiches made by Tom's mum, Pauline.
"It was an early start for them and quite a distance, especially since the youngest was only 7 years old," says Tom, "but there were no complaints, injuries or dropouts. They were brilliant – they kept themselves entertained along the way and I think they forgot how far they were walking. We had a support car carrying drinks and snacks which helped keep them focused – and they loved it when cars pulled over to donate money!"
The boys completed the 16-mile walk in 5 hours and on arriving at the stadium, were treated to watching Huddersfield Town play against Coventry City. For several, it was their first experience of a live Championship match. In recognition of their fundraiser, the club had given the whole group cut price tickets, ensured they were all seated together and to the delight of the boys, even displayed the Diggle FC logo on the giant stadium screen.
"We were all really proud of them," says Tom. "They were representing something really close to our family's hearts and did it so professionally and with such enthusiasm. As a team they've played together for a couple of years now and while we don't win particularly often, we don't take that side of things too seriously. They love playing football and they're all best of friends and knock about together so their team spirit is really strong.
"My mum was also really proud. Martin was her partner for years, and a wonderful grandad figure to my three boys Max, who's in the U12 team, and ten-year-olds Teddy and Felix, who also came on the fundraiser."
"Martin was a much loved and prominent figure in the village, everyone knew him. He was diagnosed out of the blue with pancreatic cancer in 2016 and thankfully he and mum managed to marry in the hospice before he died, just six months after his diagnosis.  Mum had already organised tracksuit jackets for all the team with PCRF's logo emblazoned on them to raise awareness of pancreatic cancer and doing a fundraiser was actually her idea. We had no idea that we'd be able to raise over £3,000, it's amazing!"