The small village of Prestbury in Cheshire was treated to a surprise visit from Elvis in June, as part of a brilliant fundraiser that raised £3,500 for PCRF.
Gill Singh and Elvis (aka husband Phil) used their daily lockdown exercise to 'Move a Million Metres' over 30 days – walking, jogging, cycling and golfing – in tribute to their good friend, Andy Jeal.
Andy, a former partner in a media buying agency, died of pancreatic cancer in March aged 56, having only been diagnosed in November last year.
Says Gill, who also lost her Aunt Ann to the disease, "Andy was a lovely man; I'd known him for 30 years throughout my own marketing career. He was well-known and loved in the industry; a larger-than-life character who was warm and generous with his time and could connect with anyone, which is why he was so good at his job. Losing him was such a shock, and made all the harder because restrictions meant we couldn't attend his funeral to say goodbye properly."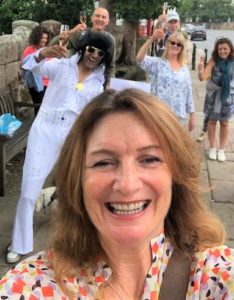 As their epic 1000km challenge progressed, Phil had promised to complete the final 5k dressed as Elvis if they'd hit their target of raising £2,000. Luckily they hit their target in plenty of time for The King to make his debut – resplendent in a full rhinestone jumpsuit – on Prestbury High Street.
"Phil had the outfit already from a fancy dress party we'd been to previously, and I suspect he was looking for a good excuse to wear it again!" says Gill.
The costume certainly did the trick: "We had extra cash donations totalling £90 from people we passed in the street. It was great fun – there was a lot of honking of car horns, bad renditions of Elvis songs and a general disbelief from passing cyclists and cars as to what Phil was wearing," says Gill.
"Andy would have loved the ridiculousness of that day."