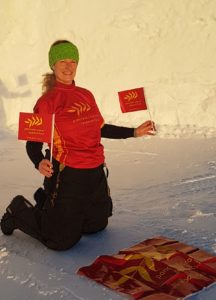 It was the latest in Heather's incredible series of '50 at 50' challenges to raise funds in memory of her uncle and father. These have included ultra walks, half marathons, fire walking and lying on a bed of nails; some fun challenges are planned too such as spending the day in a pink flamingo rubber ring and shaving her head!
Learning to cross-country ski for the first time, Heather managed over 22k a day on the group adventure in Abisko National Park, Sweden at the end of February. The skiers carried all their own equipment in temperatures as low as -27C and slept in mountain huts at night.
Heather said: "It was tough physically. My arms were very painful, and on the second day I couldn't stretch them out straight! There were a lot of group blisters – removing shoes and socks at minus 20 wasn't tempting but had to be done!"
The group was led by experienced trail guides from the park, who had volunteered to be on the special expedition.
She said: "The guides were amazing. All we could see was snow in all directions, but they were able to pick out the routes and pointed out wildlife including moose and eagles – which we joked were vultures circling, as we were feeling half-dead!"
"It was very hilly terrain, and going downhill was incredibly difficult because cross-country skis don't 'bite' at all. Although I was put in the advanced group initially, I kept falling down and ending up at the back on my own. At one point, really disconsolate and in tears, I thought of my Uncle Bill, who had been an alpine skier. I thought "Hey Bill! I need some help here!" I had a strong feeling that he was with me, and got the boost I needed to speak up and change group."
"The camaraderie was just incredible. We all got each other through with bags of fun and energy. At one stage we were singing 'Ten Green Bottles' in this stunning landscape, just to keep ourselves going! I've made friendships that I will have for life."
After finishing the marathon, the group spent a night in the original Ice Hotel –warm by comparison! Finally they were taken to the nearest airport by husky sledge, another amazing experience.
"It was absolutely beautiful – like a living Christmas card, racing through with pine forests either side, clear blue sky and sunshine. There were ice crystals in the atmosphere and the air seemed to glitter. Then we popped out of the forest and ended up in the airport car park –very surreal!"
Back in the UK, Heather is facing another challenge – keeping her year of '50 at 50' going despite events being postponed or cancelled due to the coronavirus outbreak. These include the Camino de Santiago in August, the Edinburgh Marathon, and other races that would have taken her towards her 50 total.
But true to form, Heather isn't giving up and will achieve as many challenges as she can by her birthday in September, postponing some until things return to normal.
She said: "I'm not down, just a little thwarted. I will bounce back I am sure – in a pink flamingo outfit with a shaved head!"
If you'd like to donate to Heather's fundraising please do so here: https://www.justgiving.com/fundraising/heather-lawson-50at50forpcrf
Heather's list of challenges are here: https://www.braveheartfitness.co.uk/50
You can also follow Heather's progress on her Instagram: page:https://www.instagram.com/braveheartfitness.pt/