Four football enthusiasts at Horsepower Motor Centre in Tonbridge, Kent, are competing to correctly predict the outcome of the 20/21 Premier League games each week – and in doing so, win money for charities close to their hearts.
Known as the 'Futheads', Joe Symons, Josh Cleaver, Josh Balmer and Alex Kuligowski are used to representing Horsepower for 6-aside football matches on Monday evenings, although the pandemic has temporarily forced them to hang up their boots. As an alternative, they're now using their skill and judgement to compete against each other for their favourite charities.
Each 'Futhead' predicts the outcome and scores of each 20/21 Premier League game each week – and if correct, win money for their nominated charity.
Predicting for PCRF is Chelsea supporter Josh Cleaver, Horsepower's Operations Manager. He explains:
"The idea grew out of a discussion between Alex our general manager, and the marketing team. When our Monday night games stopped, we decided to find another way to have a bit of fun and link it into supporting great causes."
Futhead rules are simple: a correct result (picking a win, draw or defeat) is worth 10 points and predicting the exact score earns 40 points.  The winner of each Gameweek wins £50 for their charity, with the runner up winning £25. Together, the Futheads will raise over £1000 for their chosen charities.
"I chose to support PCRF because I've lost two important people in my life to pancreatic cancer. My grandfather, Tony, died when I was a teenager. I remember at the time there was very little that the doctors could do for him.
"Then two years ago, our director Christina Kuligowski died of pancreatic cancer too. She died just a couple of months after she was diagnosed, on my birthday, 7th May. Horsepower is very much a family business, and losing Christina hit us all very hard. Christina's son, Alex, a fellow Futhead, is raising money for the hospice that supported his family.
"I'd read about the research that PCRF funds to find new treatments, and I know this cancer isn't as well funded as other types, which isn't right.  Both my grandfather and Christina had such a strong positive effect on me growing as a person, so I can't think of a better charity to support."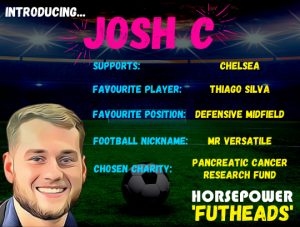 Armed with their own Top Trumps-style game cards, the Futheads are also sharing their epic battle with their followers on Horsepower's website and across social media platforms, helping to raise the profile of the good causes that are close to their hearts.
"I'm in second place to date, but there's plenty of time to take the lead yet," says Josh (AKA Mr Versatile – so called because whilst he's happiest in defensive midfield, he can play any position on the pitch).
"We started the fundraiser part way into the season, so we've not predicted all 38 games. We are competitive and there's plenty of banter, such as predicting outrageous scores for the teams the other Futheads support. It's a combination of good fun with personal meaning for us all – and the bottom line is that we all want to win as much money as possible for our charities. "