Gill (64) from Headcorn in Kent started with a January sea swim (for which she says training involved lots of freezing cold showers!) then her hairdresser hosted a ladies' pamper day in her salon for the cause. With her planned aerobathon, coffee morning and cream tea thwarted by lockdown, Gill crafted felt rose brooches to sell throughout the summer and a family member hosted two virtual greeting card and gift wrap evenings.
Sadly Blanche died in August and Gill says grief spurred her on to new and bigger fundraising challenges.
"Blanche and I famously had no head for heights and there were many holidays together where we never reached the top of castle ramparts,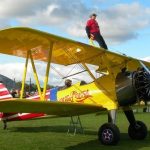 church towers and even a lighthouse we visited, so I decided I'd do a wing walk in September," she recalls.  "I carried a photo of Blanche in my pocket so she was beside me to give me courage and I was amazed at how much I enjoyed it – it was a thrilling adventure!"
Gill then rose to her brother's challenge of cycling from the north Kent to the south Kent coast, with three friends joining her on the 6-hour ride.  Another friend made and sold Christmas pinatas and Gill rounded off the year by challenging her brother to swim in the sea with her.
Gill's incredible tribute to Blanche raised over £4000 and although the 12-month campaign is complete, it seems she's nowhere near finished. She's currently knitting beaded jewellery to sell and plans to do the aerobathon, coffee mornings and cream tea.  Friends are keen to walk the 28-mile Royal Military Canal from East Sussex to the Kent coast with her and she's also planning to organise a music event with friends who play in different bands.
"There's a few other more physical challenges I'm considering too, including kayaking along the river Rother and I may just be brave enough to do a tandem parachute jump!" Gill says.