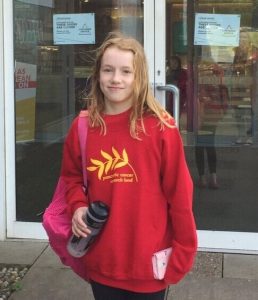 Jessica (pictured right) carried out her huge 21-mile achievement in just over a month, completing between 70 and 110 lengths during her regular three swimming club sessions each week and adding extra swims every weekend. At the weekends, she was joined in the pool by her mum Katherine (who clocked up around 12 miles herself over the challenge period!).
Jessica's Grampfy, Gregory Paull, died in 2017 at the age of 68, just a few months after he was diagnosed with pancreatic cancer.  Fundraising for PCRF in his memory came about because Jessica was working towards achieving a Torbay and Devon Civic Award, along with other Year 6 pupils at Preston Primary school. The Award encourages the pupils to develop their sense of community, values and citizenship and requires completing and evidencing several activities, including physical and skills challenges, plus community and charitable support.
Jessica had already been working towards her Award, including taking part in a beach clean-up and helping her swimming coach with the younger swimmers when the idea of the Channel-length challenge formed.
"We came up with the idea between us really, keeping in the swimming theme," says Katherine. "But even though Jessica's been at her swimming club for about 4 years and loves it, in hindsight I don't think either of us properly appreciated just how tough this challenge would be. There were definitely times when she was so tired and the enormity of the distance felt was way too big, but as ever, she dug deep and just kept going!"
"Grampfy was the best and I really miss him," says Jessica. "Because he was 68 when he died, when me and my mum were swimming together at the weekends, every 68th length we would do it in a special stroke I made up. It's called the twister and you have to twist from your front to your back," she explains.
As an extra tribute to her Grampfy, Jessica also organised her tally so that that there were 68 lengths to complete in her final swim to complete the Channel distance, and says she was so excited when she knew she was on her final length.
Says Katherine "Unfortunately, we knew that her final lengths would be completed during one of her regular swimming lessons, so there would be no time to celebrate properly at the time.  When she finished the 68th length, she simply looked over to me, grinned and raised her arms in triumph, and then carried on with her swimming lesson! We're all so incredibly proud of her."
Maggie Blanks, PCRF's CEO said: "Wow, Jessica, what an incredible achievement and wonderful tribute to your Grampfy! Thank you so much for your hard work and determination, we're really proud of you too!"
Jessica says she has no plans as yet to swim the Channel for real when she's older, but then why would she – she already knows she can do it!
Her online giving page remains open and you can donate here: https://www.justgiving.com/fundraising/jessica68