During the day, Kirsty Ford, from Wiltshire, uses her creative talents as a visual merchandiser, dressing shop windows to make them beautiful. But there's another more tomboy side to Kirsty that over 200 people will witness on 14 March, when she steps into the boxing ring.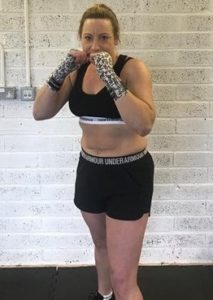 Kirsty (42) is the only woman on the fight card for the West Berkshire White Collar Boxing charity event at Northcroft Leisure Centre in Newbury. She's taking part – for the first and only time – to raise funds for PCRF, in memory of her aunt who died in 2017.
"My aunty was the matriarch in our family and we loved her so much. She was lively, great fun and totally inspirational in the way she was always smiling even though her prognosis was so bleak. The feeling of helplessness during her illness was terrible. My cousins have already fundraised for PCRF by doing marathons, and I wanted to do something too – " I knew I would have to do something different to encourage people to part with more money."
Kirsty's journey from boxercise classes with step daughter Molly to keep fit, to sparring with men at the gym, and now her first fight, has been overseen very carefully by her trainer, Zak Elliott, who Kirsty had to pester to let her fight for real.
"He said, let's see how training goes, then we'll make a decision. Nothing in boxing is taken lightly and I've had to absolutely prove that I'm ready, in top condition – and most importantly, safe enough to fight. I've been preparing at 'fight camp' since January, training and sparring for 12-14 hours a week at local gyms on top of my work. I use every spare moment to improve my fitness – I'm even skipping in the kitchen while cooking!"
Kirsty also has to deal with the additional complication of having Type 1 diabetes, so adjusting her insulin levels carefully to accommodate her training regime has been crucial. "My diabetes nurse was a bit horrified when I first told her about my plans, but she's incredibly supportive as she knows how seriously I take my health. Having said that, she'll probably be happier than anyone when my life returns to normal!
"I've always loved the buzz of exercising and the mental wellbeing that training and pushing myself to my limit gives me but I've never done anything like this before and I'm doing it in front of an audience too! And yes, getting hit hurts – even with the gumshields, so there's part of me that's terrified, but I have complete trust that the organisers have matched me with my opponent well."
Kirsty has the full support of her husband Simon, and their children Molly (18) and Bailey (13), who are all excited and a little nervous for her, and who will be ringside on the night.
"They've been brilliant. They all think I'm a bit mad of course, but they know that I've never done anything by halves. When I said to Bailey that win, lose or draw, the outcome wasn't important, he said 'Mum, don't forget I've known you for 13 years now and know how competitive you are!"
Kirsty aimed to raise £500 for PCRF, but has already more than doubled her target.
https://www.justgiving.com/fundraising/kirsty-ford12