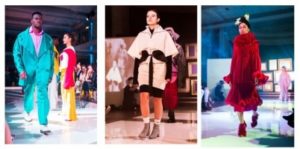 The Leeds RAG (Raising and Giving) Society is run by a committee of students who volunteer their time and skills to organise a calendar of charity events on top of their university studies. The Fashion Show is the biggest, most prestigious event in the Society's calendar, with tickets selling out within days of going on sale.
The theme for the 2019 show was 'The Collection', and covered art themes from throughout history: Romanticism, Impressionism, Cubism, Surrealism and Pop Art.
One hundred student models strutted the catwalk, showcasing the incredible talent of fashion design students in Leeds as well as stunning pieces donated from the collections of established national and international fashion designers. The high energy event was spectacular, with the 700-strong audience rewarding the students with a standing ovation.
The event was directed by students Bella Bowes and Tamika Hewitt.
Says Bella: "When Tamika and I applied to direct the Fashion Show, we were asked to select which charities we'd like to support. Unflinchingly, we both responded 'Pancreatic Cancer Research Fund.' In 2015, our best friend's mum, Lucy Knight, passed away from pancreatic cancer. The Fund was there to help her family through an immensely difficult time. Lucy was an incredible, strong woman whose spirit is definitely reflected in our friend, Stephanie. The whole family emits nothing but joy and we wanted to give back to a charity who gave so much to them."