The preliminary data was presented in early June at one of the largest cancer conferences in the world, the Annual Meeting of the American Society for Clinical Oncology (ASCO) in Chicago, which is attended by some 40,000 cancer experts.  The research was led by Dr Eric Klein from the Taussig Cancer Institute at Cleveland Clinic in the USA.
Grail Inc., a startup company backed by Microsoft co-founder Bill Gates and a venture fund of Amazon.com's founder Jeff Bezo,. ultimately aims to develop the 'liquid biopsy' techniques into a blood test that could diagnose a range of cancers in their early stages, but acknowledges that there is a long way to go before this could happen.
Its study, Circulating Cancer Genome Atlas, investigates the minute amounts of DNA shed from cancer cells, which circulate in the blood – as opposed to traditional biopsies which analyse tissue taken from the tumour itself.  The analysis of the blood sample looks for DNA containing specific mutations or abnormalities which can indicate the presence of certain cancers.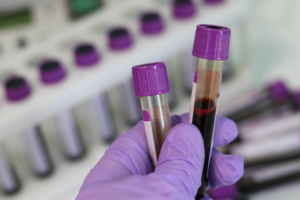 The team presented data on blood samples taken from some 1,600 people, 878 of whom were newly diagnosed with various cancers, and 749 people who were cancer free, as a control group.  The liquid biopsy's sequencing method was successful in finding warning signs of cancer at different rates, depending on the type of cancer. For pancreatic cancer, it correctly identified four out of five patients who had been newly diagnosed with the disease.
The results were welcomed as 'proof of principle' that Grails liquid biopsy showed potential in detecting several early cancers in blood samples but many experts remained cautious, saying that while the technique has potential, the detection rates for some cancers, such as lung cancer, were not as high as early detection rates using other techniques, such as low dose CT scans. In addition, the study was only conducted on patients already known to have cancer and those known to be free of cancer. It still needs to prove that it can identify cancer in those patients who do not have any other signs or symptoms if it is to become an effective screening tool.
For now, Grail is continuing to enrol people onto the study and ultimately intends conduct liquid biopsies on blood samples taken from 15,000 study participants, 70 per cent of whom already have cancer and 30 per cent who do not.
PCRF comment:
There is a huge amount of interest in using liquid biopsies to exploit the information held in the DNA of circulating tumour cells, and PCRF itself has funded pioneering research into liquid biopsies that is now being used in CRUK's £10million programme PrecisionPANC, to drive forward research into personalised treatments for pancreatic cancer.
While there are still many caveats to these early findings, it is heartening that research is progressing in early diagnosis techniques, and anyone who has any knowledge of pancreatic cancer will be hoping that the promise shown in Grail's early results will bear out in the future. It is frustrating that progress can take a long time, but it shows that when funding is ploughed into research, valuable new techniques and technologies can be developed that will have an impact on tackling pancreatic cancer.