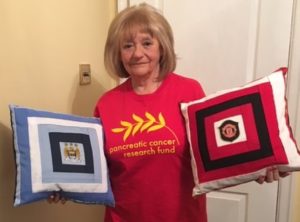 Marion, 74, set about fundraising for PCRF after losing her husband, David, to heart problems the day after a successful Whipple operation to remove his pancreatic tumour in 2016.
She holds a 'book club with a twist' using second-hand, donated books. Friends and family pick a book each then meet up once a month to chat over tea and cakes about the book they've read and swap with each other. The books are ultimately recycled again to the local charity shop. "Everyone donates £2.50 and we have the occasional raffle, or a handbag or scarf swap session too. As well as having great fun, we raise around £30 every month."
Marion also uses her sewing skills to turn donated football shirts into cushions displaying the club's badge, which she sells on for £5 each.
"I probably get one or two shirts a month, either from children who've outgrown theirs or people who've bought a newer version and pass the old one to me," she says. "They sell quite regularly and there was even a little surge when the World Cup was on too!"
Luckily for PCRF, Marion's lifelong allegiance to Manchester City FC doesn't prevent her from making cushions using shirts from their great rivals, Manchester United.  And last year, she had one of her Manchester United cushions signed by club legends Ryan Giggs and Phil Neville, which was raffled in a local pub, raising a fantastic £81!
"My grandson, Chad, won a signed shirt in a competition and part of the prize was to have it delivered in person by Ryan Giggs and Phil Neville. While they were in my daughter Jeanette's house, she took the opportunity to ask if they'd sign one of my cushions, telling them they were sold for charity, and they were happy to. They were lovely."
With support from her three daughters, Dawn, Suzanne and Jeanette, Marion has so far raised over £3,600 for PCRF – including over £1,000 raised by Jeanette who asked for donations instead of gifts for her 50thbirthday! A prosecco evening is planned for later this month which is expected to add a few hundred pounds to the total too!
Says Maggie Blanks, PCRF's founder and CEO: "This is a lovely example of how 'little and often' fundraising can quickly grow into large amounts of money! Thank you Marion and family, we're very grateful for your hard work and innovation!"