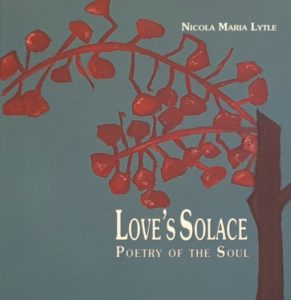 Written in the years following the death of her mother, Linda, from pancreatic cancer in 2013, the result is Love's Solace: Poetry of the Soul – a collection of 21 free verse poems, beautifully capturing different stages and aspects of loss and grief, but also unexpected moments of joy, solace and comfort. One of the poems 'Shapeshifter' is dedicated to Nicola's inspirational friend, Sheila, who passed away in 2015.
"I've always written since childhood; it's been my private creative outlet but I've never published anything before because a lot of this is so personal.
"The impetus to do it now has been a mixture of several things; I turned 50 this year and this summer would have been my mum's 70th birthday, so I felt there was a milestone for both of us and I knew I would regret it if I didn't. Both my dad and my sister have held fundraising events for PCRF, and I'm proud to be making my own contribution too."
"My mum was a youthful, vibrant, generous-spirited, creative and loving person. She bore her final months with great dignity and courage. There are moments when the loss of someone you love seems unbearable, but I know that grief is the price you pay for love.
"Many of us who have lost a loved one experience their ongoing love for us in deeply personal and visceral ways. There have been unexpected moments since my mum died when I have tangibly felt her love – often when I've needed her most – and these have been moments of great joy. And all of this is what I've tried to capture in my poetry.
"It has felt really healing to process the different dimensions of both grief and love, and to allow the ongoing connection with my mum to express itself through my poetry. My intention and hope in sharing it is that it will also resonate with others seeking solace and comfort."
Nicola says that right from the outset she wanted the book to be a joint creative project with her mum's paintings:
"My mum was a talented artist and it was really exciting to rediscover her work, and see how it complemented my poetry. I also incorporated my sister Naomi's paintings and I recalled that my mum's own mother, our nan, was also an artist, so I included some of her artwork too. Things just fell into place once I realised that I had a collection of different creative works from three generations of women in my family, all intertwined. I know my mum would have been thrilled.
"I feel like my book has been a shared creation by my family and friends. I am really grateful to all my friends, my dear dad, Peter, and sister, Naomi, my cousin Jan, and my extended family of aunts and uncles who have generously helped to fund it, especially my uncle Tony, whom my mum always looked up to as her beloved, wise and older brother."
Nicola's poetry collection, Love's Solace: Poetry of the Soul is available in the PCRF shop (LINK)