Barry (41) lost his dad Michael, his grandma and great grandma to pancreatic cancer and is keen for people to be aware of the symptoms so that the cancer can be detected as early as possible. The idea for a 24hr radio show was prompted by the upcoming 10th anniversary of his dad's death and he's busy packing his mammoth broadcast with a mixture of entertainment and information.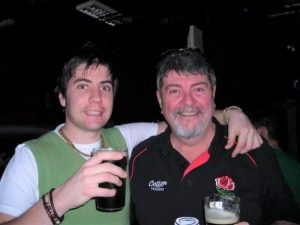 He says "I love my day job but presenting on radio is something I have always wanted to do. It's such a great creative outlet and a fabulous community resource and now is a platform that I can use to raise awareness of something really important to me as well as having fun doing it.
"The fundraiser will have an educational element to it too; I'll be interviewing researchers and clinicians involved in tackling pancreatic cancer, finding out about new treatments and the challenges of tackling this disease.  Plus I'll be chatting to the founder of the charity I'm fundraising for, Pancreatic Cancer Research Fund, which supports some incredible research projects."
He continues: "But we'll also have lots of lighter stuff too – I've got a whole 24hrs to fill with games and quizzes as well as playing as many requests as I can! I'm also sending my wife, Emily, and our friend Zara, who has been instrumental in getting the show together, to do a live scavenger hunt that people listening can join in with as well. They'll be roaming around Plymouth trying to complete challenges or find certain objects as quickly as they can – hopefully people listening will play along and try to beat them!"
Barry's regular Thursday evening show invites song requests relating to a particular word or theme; and his 24-hr show will be no different, with Barry announcing the theme as the show kicks off.
"Listeners can let me know of any ideas, requests and dedications they have by messaging me in the studio on 07835490010 or via the social media pages for the show – https://www.facebook.com/ptownradio/ and on Twitter @RadioPtown. It's going to be a really tough challenge, not least with the lack of sleep, so it would be fantastic if people could tune in and participate!"
You can get in touch through the Positively Plymouth show pages on Facebook and Instagram. PTown Radio is available via an app (just go to wherever you normally download apps), on Alexa or you can tune in and listen live via the website https://www.ptownradio.co.uk/
If you'd like to support Barry's fundraiser, he has an online giving page at https://www.justgiving.com/fundraising/barry-sullivan10