The HK360 is the South Asian equivalent of swimming the English Channel, with swimmers circumnavigating Hong Kong Island through some of the busiest shipping lanes in the world and facing jellyfish, severe weather events, strong currents and the added challenge of (thankfully rare) shark sightings.
Jack reported back to us:
"We did it! Given the tides, we were forced to start at midnight and swim for 6 hours in the dark. The official organisers, AVRA, noted that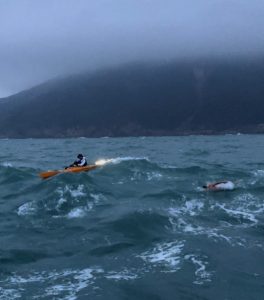 these were the worst conditions they have encountered on a swim…! After getting over the murky water, dead fish and swimming blind into piles of rubbish, we successfully crossed the harbour at around 4am, dodging ferries and container ships.
We reached the finish, Big Wave Bay, at the same time as a tornado coming in from the South China Sea. The Hong Kong police boat following us were not left best pleased, as they battling sea sickness with us in the wind and rain.
They tried to get us out the water and cancel a few times because of the severe conditions, but we made it and almost in record time – I think we were 48 seconds off the record!"
Jack and his team-mates are well on their way to reaching their £100k fundraising target with generous match funding from Jack's employer, global private equity firm, CVC, and its philanthropy programme run through the CVC Foundation.
Jack's full story here https://www.pcrf.org.uk/news/jack-hk360-swim/