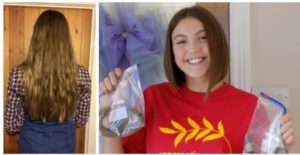 Victoria's fundraising efforts are in tribute to her grandad, Richard, who died of pancreatic cancer in April 2018.
Prior to her haircut, Victoria also took on several physical challenges to reach her magnificent total, including a 10km Trail Run in October 2018 and in the same month, a 7km Night Run, which she described as "cold, wet and muddy"! She's also organised a bake sale at Sir Isaac Newton Sixth Form college and organised a Teachers Vs Teachers fundraising netball match in May at Aylsham High School, before she left to start her A levels.
"My Grandad was funny, kind and we really miss him. Him and my Nan, Gladys, did everything together and were married for over 50 years. He was always so supportive of his grandchildren. He came to every school show I was in, showed so much interest in the swimming galas I was involved in, and took my younger sister and I regularly to 'The Spring Fling' and the Norwich Pantomimes.
"What was so cool about him, he was an amazing man who loved nature. He grew up on a farm in the countryside so would take us on fantastic nature trails in the woods and tell us about the leaves on the trees and things like that. Him and Nanny had wanted a dog for a while, but instead Grandad was able teach their cat Ozzy to play fetch!"
As well as raising vital funds for PCRF, Victoria has donated her hair to the Little Princess Trust, which makes wigs for children with cancer.
"My Nan came with me and mum to get my hair cut off. She was really proud that I would do this for Grandad. She's been so supportive of all the fundraising and checked the Just Giving page nearly every day. I've never had short hair, so it was quite a shock at first as my head felt really light!"